Parade of Homes Remodelers Showcase Case Study

Can opposites really live in the same home?
The job was to take a small, outdated Minnetonka kitchen and great room with a low, claustrophobic, leaky, moldy roof and turn it into a kitchen that would be the center of the family's home as well as functional and fun for every day cooking.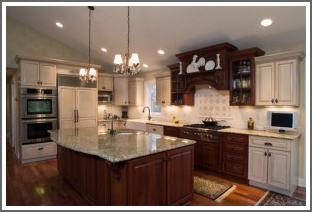 Our first obstacle was to overcome the homeowners. They couldn't agree on anything. If the wife said day, then the husband would say night. The only thing they agreed upon was the old 7' high ceiling in the kitchen had to go. They wanted the ceiling raised but he wanted it to be white with textured knockdown, she wanted it to match the other existing ceiling which was a warmly stained cedar T&G. He wanted the stainless steel Miele dishwasher to match the existing stainless steel Sub Zero refrigerator. She wanted the double drawer Fisher-Paykel with matching cabinet appliance panels throughout. He wanted 2 Sub Zero bar refrigerators, she wanted one. He wanted American Cherry cabinets, she wanted them painted white. He wanted Cambria countertops, she wanted Granite. He wanted a double bowl stainless steel sink, she wanted a Shaw farmhouse sink. He wanted natural maple window casing and base, she wanted white enameled trim. He wanted real 3" Maple hardwood flooring, she wanted 6" Brazilian Cherry. He wanted the wood flooring to be ¾" thick, so of course she wanted engineered flooring, and so it went.
Remodelers Showcase
The customers love to cook and stir frying is their favorite. Even their three kids wanted in on the action. They needed to enlarge the main cooking area so everyone could help with food preparation. The biggest problem was that both main entrances to the kitchen and the entrance to the formal dining room couldn't be moved. To get the larger area required the entire kitchen had to be moved to the other side of the great room. The problem was what will they do with all their existing and expensive plumbing? The husband was a bartender in college so his solution was to put in a bar. The old kitchen was a perfect fit for a bar because all the plumbing was already there.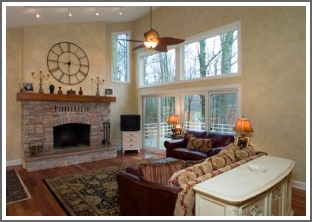 The old great room area was long and narrow and never really worked. The new shape of the great room is fantastic and opens out to the existing deck making it feel a lot larger than it really is. The existing fireplace, at the owners' request, needed to stay wood burning so the old outdated stone was replaced with 4" Rustic Chilton stone. The Chilton beautifully compliments both the new Kempas hardwood flooring and the textured, painted sheetrock. The old patio doors were replaced with new Marvin Integrity doors and above each patio door a Marvin window was added for a little more drama.
Yes, our customers are still happily married.