A Minnesota Garage Without Style Is Just A Pile Of Lumber
84 2x4 Wall Studs, 13 Factory Truss Rafters
40 Sheets of Wall & Roof Sheathing
400 Framing nails, 1,920 Sheathing and 1,564 roofing Nails
And Bla, Bla, Bla
Pretty boring right? That's why choosing the right garage style for your is so important!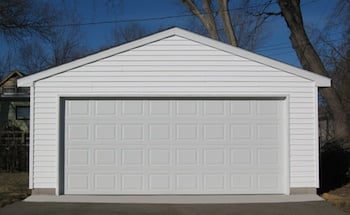 20x22 Two Car Garage with 4/12 Standard Truss
This is the most popular standard Minnesota two car garage style and size. It has all the features you'd expect in a garage today. Premium vinyl siding, aluminum soffit and fascia (over hangs), 16x7 raised panel overhead door and 1 window and service door.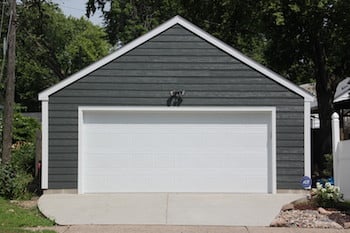 22x22 Gable Roof Garage with 7/12 Storage Truss
This Minnesota storage truss garage is the most popular style garage if your looking for more storage without taking up more of your yard. The owners of this St Louis Park, MN Garage wanted to match their home as close as possible. They requested LP SmartSide Siding factory painted to match, wide trim around the overhead door, service door and windows. Click Here to Read-More/See-More Pictures.
22x24 Gable Roof Garage with 10/12 Room in Attic Trusses
When you have more stuff than lot size this style garage is the only way to go. Their is a full staircase leading to the second floor with a room size of 12x24. The roof has 12" over hangs on all four sides with James Hardie lap siding.
30x26 Dutch Hip Garage
Look closely at the front and rear roof line of this garage. The ends are clipped for a roof style known as a Dutch Hip. The roof pitch is a 9/12 with storage trusses, LP Smart Side lap siding, 16x7 and 9x7 raised panel overhead doors and architectural roofing shingles.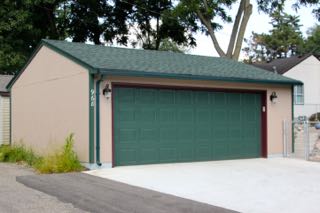 24x24 Reverse Gable Roof Garage with James Hardie Stucco Board Siding
The owner of this St Paul garage wanted the look and feel of real stucco but without the additional cost. In this situation I always recommend James Hardie Fiber Cement Stucco Panel siding... Click To Read More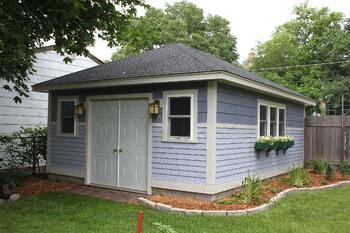 16x22 Garage in Historic St Paul Neighborhood
Building garages in one of St Paul's most exclusive and historic neighborhoods is no small task. You have to blend what the homeowner wants with what the Saint Paul Heritage Preservation Commission will accept.
This garage is a great example of doing just that. We blend modern day materials with old worth charm to build this one of a kind carriage style garage.
Attached Garage On Historic Lake Minnetonka MinnesotaHome
Our marching orders were to match the home's exterior features and bare no expense. These Orono homeowners were serious about restoring this historic home to its original glory.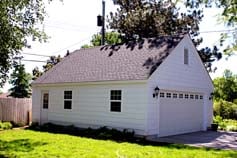 Two Car Garages
Some homeowners want their Garages to match the style of their home. On this St Louis Park, MN Two Car Garage Western Garage Builders did exactly that. We used James Hardie, HardiePlank siding on the walls of this garage with James Hardie, HardieShingle Staggered Edge Notched Panel siding in the front gable. The front of this home had a interesting detail which the owners really liked and wanted to match. The carpenters used tracing paper to copy the detail and was able to hand cut and reproduce it above the overhead Garage Door.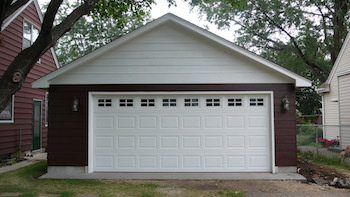 Two Car Garages
This 24x40 4 car Garage is located in Richfield, Minnesota where your allowed 1,000 square feet of Detached Garage. Driving by this home you'd never guess it was a 4 car Garage so it blends into the neighborhood perfectly. If we would;d have made the garage 40 wide by 24 deep it would have overpowered the the home and looks out of place. You don't notice depth as much as width so we build a lot of tandem garages in Richfield Minnesota.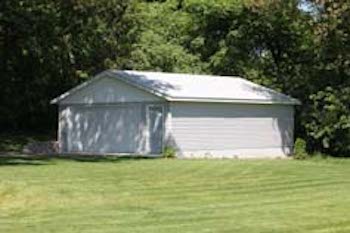 Two Car Garages
This Minnetonka, Minnesota homeowner was paying hundreds of dollars each month to store his antique cars. He built a 24x30 detached garage in his back yard so he wouldn't have to drive to the storage garage every time he wanted to take one of his beautiful antique cars out for a Sunday drive. Not only is it convenient having his cars on site but he's also building additional equity for his home.
The materials used on this garage were, Alside Vinyl Siding, Alside Aluminum Soffit and Fascias, GAF/ELK roofing shingles and a 16x7 raised panel steel insulated overhead garage door.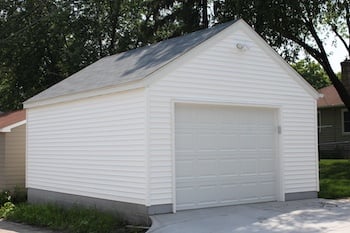 Single Car Garage
This owner loves her 16x22 South Minneapolis garage. She wanted to save as much of her yard as possible without sacraficing storage. We raised the pitch of her roof using 7/12 storage trusses. vinyl siding, aluminum soffit and fascia, 9x7 raised panel steel overhead garage door, one row of cement block on top of the slab, a cement driveway, one window and a service door. The electric package has one overhead light, one overhead outlet for the garage door opener, one wall outlet, one flood light with motion sensor and a 20 amp line.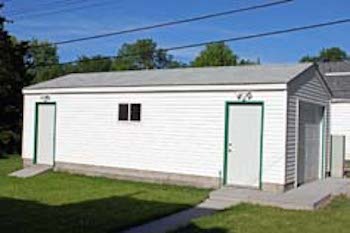 Single Car Garages
Sometimes single car Garages with a little extra storage is what you need. This Single car Garage was built in Hopkins Minnesota. Its a 14' wide by 36' deep Garage. While most Garages are 22' deep this customer wanted a small workshop in the rear of the garage. We separated the two garage areas with a partition wall. We built a cement ramp into the the storage area of the Garage so larger items can be wheeled into the Garage instead of having to fight a step. Garages that are deeper than they are wide are very popular where space is very limited.