If you're thinking about starting some home improvement projects like adding vinyl siding, Minnesota has a number of options available to you. And at Western Construction Inc. we have the products and the professional staff that can help you create a beautiful exterior for your home.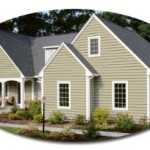 Adding siding to a house is usually simply for cosmetic or aesthetic reasons, but there are a number of other benefits to it as well. Vinyl siding will immediately lower the maintenance requirements of the home's exterior, while simultaneously adding another layer of insulation. Often siding in Minnesota covers cracks or holes in a home, so it's important to make sure you have the highest quality siding to help lower your energy costs.
Vinyl siding is versatile and affordable. We offer vinyl siding in Minnesota in a wide variety of brands, colors and styles. With a quick, professional installation you can set your home apart from others in the neighborhood and increase the overall value of the house. At Western Construction Inc. we provide the knowledge and experience required to make sure that your home's exterior is beautiful and durable and one you'll love to look at. Get a free estimate today and find out how quickly and easily we can get started.