How Much Does A Garage Cost in Minneapolis & St Paul? That Depends
How level is your lot?
That's the first question I'll ask to determine how much your garage building cost.
The one factor that effects the cost of a garage more than any other is the ground preparation. You can build the exact same 2 car garage on three different lots and the Garage Cost will be different for each one.
What Minnesota city do you live in?
The average Minnesota building permit fee for a 2 car garage will vary depending on the city you live in. For example, in Minneapolis or St Paul the garage building permit fee is only $450.00. If you live in St Louis Park the cost is over $700.00. If you live in Edina or Robbinsdale a full survey with elevations is required which can run well over $1,000.00. Lucky Bloomington MN homeowners only have to pay $50.00 for a garage building permit.
Do you need an old garage removed?
Another factor in the over all garage building cost is how much it will cost to remove your old garage and slab? The average cost to remove a single car garage and slab is around $1,500.00. However, stucco, insulated walls, ceilings, second story garages and asbestos removal is additional.
Garage Building Cost is determined more by ground preperation then anything else.
The 3 pictures below are all 22x22 garage slabs but they have three very different overall cost.The garage cost rule is, the more level the land, the less the garage will cost.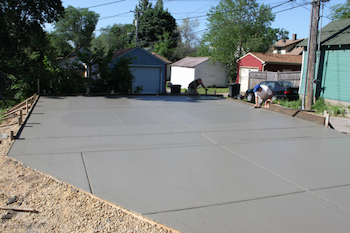 The First Garage Slab
This 22x22 Garage is on a fairly level lot.The cost of the ground preparation will be minimal for this garage.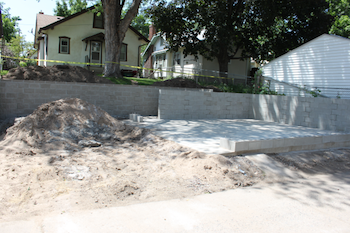 The Second Garage Slab
This 22x22 Garage will required a great deal of ground work and preparation;
Excavation
Heavy footings to support the weight of all the block
Professional damp-proofing
Drain tile for proper drainage
Back filling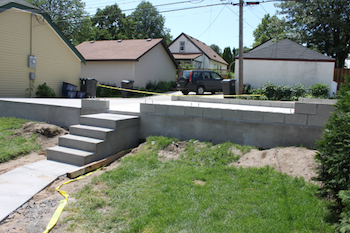 The Third Garage Slab
This 22x22 Garage was a high formed garage slab.
High form labor
Several loads of fill material
Double the amount of concrete was used in the exterior walls of the Garage and driveway
Labor and material for the cement steps
Skim coat the exterior of the retaining walls
Click Or Call for your Free Garage Quote Today
Western Construction is your local Minneapolis St Paul Garage Builder. We specialize in Garage Construction and serve the entire Twin Cities Metro area.
Founded in 1949