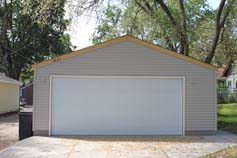 I had a new garage installed by Western Construction, Inc. They also removed the old garage including the old cement slab.
I had a great experience with the entire garage building process. The entire job took about a month to complete. When I had questions, I received prompt attention to getting them answered. Everything looks great - from the concrete floor to the garage. The electrician was especially easy to work with. Last but not least, everything was cleaned up before they left. There was nothing left for me to dispose of or to clean.
Thanks to the entire Western Construction team for a great job!
Barb from Chaska, MN