Two Car Garage Construction Specifications
Knowing whats under the hood or should I say shingles, is the most important and often most overlooked part of the garage construction process. Knowing the specifications that make a garage a Western garage is as important as choosing the correct siding, roofing and windows.
While there are hundreds of garage styles, shapes and sizes to choose from, every garage at Western Garage Builders starts with the same specifications.
Garage contractors all over the counrty will talk about everything but how they build their garages. We're so proud of our garage construction process that we put it out there for everyone to see. The funny thing is, except for code changes and material improvements today's Western garage is built pretty close to the way my father first built them back in 1949.
If it ain't broke don't fix it my father used to say so after 67 years and thousands of garages around the Twin Cities still standing I guess he was right!
Click on the picture for a larger version.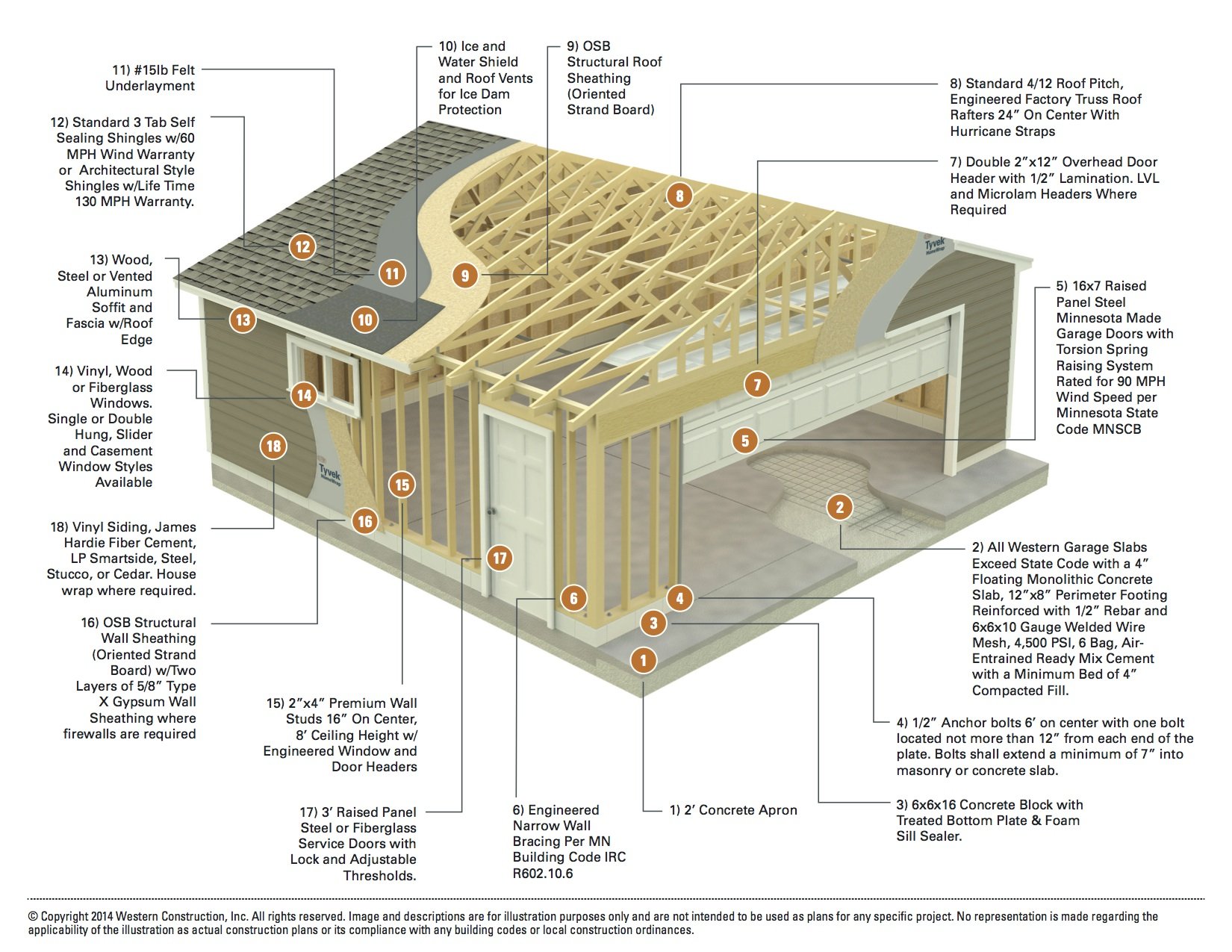 Since 1949 Western Construction, Inc. has been building detached garages that meet or exceed Minnesota building code. Minnesota Garage Contractor License #bc316811
Minneapolis St Paul two car standard garage construction specifications
Full width 2' concrete apron.
All Western garage slabs meet or exceed Minnesota building code with a 4" floating monolithic concrete slab, 12" x 8" perimeter footings reinforced with 1/2" steel reinforcing bar and 6x6x10 gauge welded wire mesh, 4,500 psi, 6 bag, air-entrained ready mix cement with a minimum bed of 4" compacted fill.
6x8x16 concrete block with treated bottom plate & foam sill sealer.
1/2" anchor bolts 6' on center with one bolt located not more than 12" from each end of the plate. Anchor bolts shall extend a minimum of 7" into masonry or concrete slab.
16x7 raised panel steel Minnesota made North Central garage doors with torsion spring system. Rated for 90 mph wind speed per Minnesota state code MNSCB.
Engineered narrow wall bracing per Minnesota building code IRC R602.10.6.
Double 2"x12" overhead door header with 1/2" lamination extend the full width of the garage not just over the overhead door. LVL and Microlam headers used where/when required.
Standard 4/12 Roof Pitch, engineered factory truss roof rafters 24" on center with hurricane straps.
OSB structural sheathing (oriented strand board).
Ice and water shield, roof vents for ventilation and ice dam protection.
#15lb felt roofing underpayment.
Architectural style shingles with/lifetime 110-130 MPH wind warranty.
Wood, steel or vented aluminum soffit and fascia with roof edge.
Vinyl, wood or fiberglass windows. Single or double hung, slider and casement window styles available.
2" x 4" premium wall studs 16" on center, 8' ceiling height w/engineered window and door headers.
OSB structural wall sheathing (oriented strand board) w/two layers of type X gypsum wall sheathing where fire walls are required.
36" wide raised panel steel or fiberglass service doors with lock and adjustable thresholds.
Vinyl siding, James Hardie fiber cement, LP SmartSide siding, steel, stucco or cedar siding.House wrap where required.