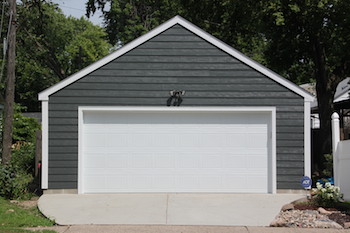 22x22 Garage with 7/12 Storage Trusses

The owners of this St Louis Park detached Garage wanted to match the style and era of their 1940's home as close as possible or as close as their budget would allow. We used factory painted LP SmartSide siding because it matched the siding on their home. The barn sash windows, service door, overhead door and corners were all trimmed out in a wide board to match the era of the home.
The white trim colors set against the dark siding color really adds some drama to the style of the garage.
The overhead door is made locally in Minnesota by North Central Door Company. The owners picked the C/S (carriage style) door which again matches perfectly the era of the neighborhood not to mention its a darn good looking garage door.
Storage Trusses were used to add another 264 square feet of storage above the cars and out of the way. Storage trusses are really popular today because they leave the lower level/slab storage for a lawn mower, snow blower, and all the family's bikes.