Minneapolis Single Car Garage Dimensions 16x22

Sometimes all you need is a Single Car Garage. This Minneapolis Single Car Garage is perfect for those times.
We used Alside Odyssey® Plus Vinyl siding for this Minneapolis Single Car Garage. Odyssey® Plus does everything you'd expect from a premium vinyl siding product, without the premium price. Extra panel thickness and an advanced lock design provide superior rigidity and holding power.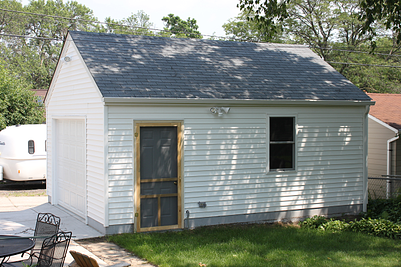 The overhangs or what we call soffit and fascia are covered in Alside Aluminum. We used aluminum because mmaintaining the eaves and overhangs of your Garage can be a chore. Easy-care Alside soffit provides a beautiful finished appearance while providing the ventilation you need to remove excess heat and humidity from the attic area.
For additional summer ventilation this Minneapolis Garage has a vinyl double hung window and a wood screen door.