Minneapolis Garage 22x22

The siding for this Minneapolis Garage is HardiePlank® lap siding. We used HardiePlank® lap siding on this Minneapolis Garage because its the most popular brand of lap siding in America and can be found on over 4 million homes and of course many of our Garages. With its strength, beauty and durability, HardiePlank® lap siding enhances and protects Garages in all kinds of climates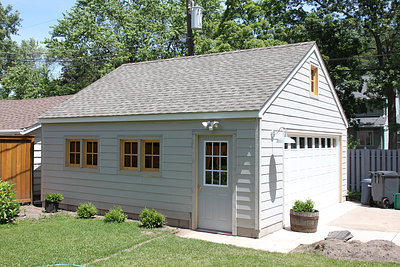 The overhangs are covered in Alside Aluminum. We used aluminum because maintaining the eaves and overhangs of your Garage can be a chore. Easy-care Alside soffit provides a beautiful finished appearance while providing the ventilation you need to remove excess heat and humidity from the attic area.
The roofing for this Minneapolis Garage is GAF/ELK Timberline®30. We chose this roofing material for its "Value & Performance In A Wood Shake Look". You'll recognize the distinctive Shadow Accent(TM) effect. Timberline®30 is both architecturally stylish and practically priced.
The owners wanted plenty of natural light inside their Mineapolis Garage. They chose wood barn sash windows with grids in sets of two. The service door is 36" wide with 1/2 glass and grids to match the barn sash windows. The front of the garage has window both in the 16x7 raised panel steel overhead garage door and another barn sash window in the front gable for lots of light in the storage area.
The roof trusses these homeowners choose are the popular 7/12 spread web storage trusses. Not only a attractive style touch but they add lots of additional storage.