Stucco Garages

The owners of this St Paul Stucco Garage had Two main request.
Match the Stucco Siding on their home
Lots and lots of storage
Both were easy to accomplish with a Custom Built Garage from Western Garage Builders.
24x22 Two Car Stucco Garage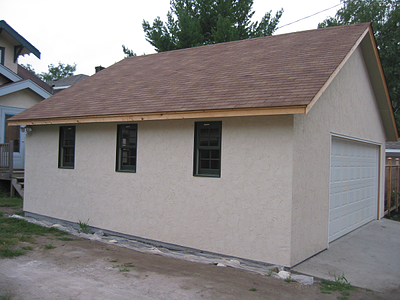 They have three kids, 5 Bicycles, 1 lawn mower and garden tools. They also wanted a work bench on one of the walls.

The first recommendation I made was for a 24x22 garage. Its big enough for all their stuff but yet doesn't take up all their yard.

Then they told me about all of the stuff they wanted to get out of their attic and basement. We didn't want to take up anymore of their 40' St Paul City lot so I recommended our custom 7/12 storage trusses complete with a floor and folding drop down attic ladder.

They felt the combination of a 24x22 garage size and the storage trusses were exactly what they needed.