Golden Valley, MN
Master Bedroom Suite, Family Room and Attached Garage.
This Golden Valley home had a very unique problem.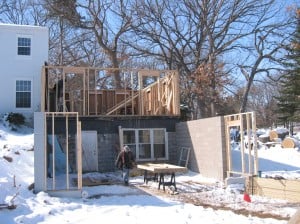 It was owned a famous Minneapolis musician, song writer and music producer. He and had a full recording studio built off the side of his home with a flat Spancrete roof. It was fantastic for his band to record some of his hit songs but for resale, how many people need a recording studio in their home?
We looked at putting a Fypon or Trex deck on top of the recording studio but a Minnesota deck comes with Minnesota Mosquitoes. The home was in a very desirable Twin Cities neighborhood with lots of growing families so we decided that was our target market. To remodel for a growing family and everything they represents.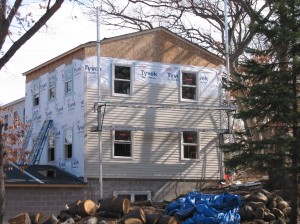 Western Construction's solution was to turn the sound proof recording studio into a childrens game room and media room. What parent wouldn't appreciate that? It was already sound proofed and had all the electrical needs a game room-media room would require. On top of the game room we gave them a huge 24×24 main floor family room off the existing living-dining room for expanded entertaining. On the 3rd floor we built a new master bedroom suite complete with a private bathroom.
The exterior of this Golden Valley home had painted redwood siding. We wanted to be more Eco friendly so we matched it up with James Hardy fiber cement siding. The windows were a important design element because we wanted to compliment the existing home. We used Marvin Integrity double hung windows with beautiful oak casing stained to match the existing windows. On the other side of the home they had a very small 2 car garage so we added a new 22×22 attached garage to the front of the game room addition. We put in all new landscaping including a new front walk to the new asphalt driveway.
The home was put on the market and sold withing 30 days. The Realtor told us about all the compliments she received on our remodeling project both interior and exterior. She credited the quick sale of the property directly to the thoughtfulness of our design/build remodeling expertise.