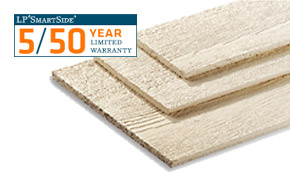 If you're looking to build a attached or detached garage or reside your Minnesota home, I have a siding I'd like you to consider.
Several years ago I was walking the floor at the International Builders Show. My eyes were drawn to a display that I thought had cedar siding on it. I love the way cedar looks and feels so I went over to check out the display.
To my surprise it wasn't cedar after all. It was a beautiful siding made my LP Building Products called SmartSide. I wasn't impressed with the name but the wood grain texture it had was nearly perfect.
Like so many other products you see at trade shows that large I soon forgot about the SmartSide siding and came back to Minneapolis.
This happened year after year until our local rep came into my office to demonstrate the benefits of SmartSide siding over fiber cement siding.
Here are a few benefits.
LP SmartSide siding has the best warranty in the industry with a 5/50 year warranty. This means that Twin Cities homeowners have 100% labor and material replacement for the first 5 years. From years 6-50, there is a prorated material warranty.
I often have Minneapolis and St Paul homeowners asking for a replacement siding that has the least amount of seams. SmartSide comes in 16' lengths vs. fiber cement's 12' lengths. On a typical Twin Cities home you'll have 33% less seams.
In Minnesota we really know what the look of cedar siding is and LP SmartSide siding has a more realistic cedar texture than fiber cement.
Installers tend to prefer applying LP SmartSide vs. fiber cement. It's easier and quicker to install, no special cutting tools are required which translates into $$ savings to you.
LP SmartSide siding scores very high in regards to green building.
LP SmartSide siding is produced locally which is good for our economy. They have local mills in Two Harbors MN, Hayward WI, and Tomahawk WI.
LP SmartSide is a time tested proven product that has been in the market since 1996/1997. It has not had a documented claim against rot or decay in the history of the product.
If you would like more information on LP SmartSide siding for your siding job please contact Western Construction, Inc. for a free estimate.