Earlier this spring I spoke with a Minneapolis homeowner who was trying to sell her home. She was uncertain spending the money on a new garage would be a good investment.
After a short phone call she decided to have me out so we could discuss her options.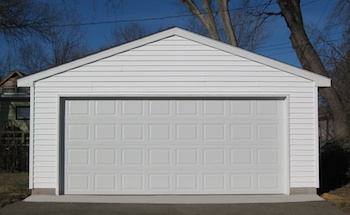 She explained that she's had several open houses and not one offer. Not even a low ball offer. Her Realtor told her it was because of the old dilapidated detached garage. Her Realtor also told her about several cars pulling into the driveway and after seeing the existing garage, backed out and drove away. She couldn't believe no one wanted her beautiful Minneapolis home because of a stupid old garage.
I explained to Leslie that I hear that all the time and I believed a new garage would defiantly help.
Leslie thought I was just trying to sell another job. Nothing could be further from the truth. Yes, I wanted to sell a job but if it doesn't benefit the customer I'll tell them the truth. Her Realtor was the one pushing for the new garage. He was tired of hosting open houses and not getting any offers.
Leslie and her husband Mike talked it over and decided to give it a try. We removed their old 16x20 detached garage. The new garage size had to be large enough to appeal to the largest number of prospects so we decided on my Realtor Special, a 20x22 two car. That's an appropriate size for a city like Minneapolis. We didn't want to build anything too fancy or elaborate. The ROI (return on investment) wouldn't be there if we over built so we matched the color vinyl siding of the home, a standard gable roof with standard overhangs, wrapped the overhangs in aluminum for the maintenance free look new homeowners want and called it good.
The project had to be completed within 4 weeks because there was all ready another open house scheduled. The project was finished, cleaned up and ready for the open house on Sunday.
Believe it or not there was a signed purchase agreement on Monday. Leslie called to tell me the great news and thanked everyone at Western Construction, Inc. for a job well done.
I don't want to take all the credit for this home being sold BUT!
Before the new Western Garage: Not sold
After the new Western Garage: Sold
You be the judge.
How can Western help you?