Let Western Garage Builders Remove Your Old Garage
Garage removal or Garage tear downs is a lot harder than it looks. Take for example a typical Minneapolis or St Paul Garage. These garages are usually located on a alley that is only 12'-14' wide. The garage to be torn down is usually 6"-12" from the side property line and 18" from the neighbor's garage. There's barely enough room to stand between the two garages much less have to tear one down.
Garage Removal Is An Art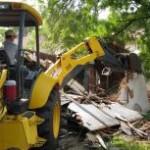 There definitely is an art to removing a detached garage without harming the neighbors garage. First the backhoe is expertly brought into place so we can implode the garage. We start with the roof. The roof is caved in which keeps everything centered on the existing garage foot print. The walls are then carefully brought in from the sides onto the garage slab to be mulched up and lifted into the dump truck for removal from the job site. The old garage slab is then broken into small pieces for removal.
Garage Debris Removal
Your old Garage is then trucked off site to a special land fill equipped to handle construction debris.
Your old garage slab is brought to a recycle location where its ground up into small pieces, perfect for re-using as fill on other garage slabs we build.
Can We Watch The Old Garage Being Torn Down?

The short answer to that question is YES. Many homeowners will take a day off of work to stay home and watch the garage removal process. Your kids will also find it a blast to watch.
I've been in the garage business my entire life and I still enjoy watching the big machines turn old garages into landfill.
Do We Need To Be Home For The Garage Removal?
Once we have the property lines located there is no reason homeowners need to be on site for the garage removal. You'll pull your car out of the garage one last time in the morning and when you return from work you'll have a perfectly clear back yard.
For more information please fill out the contact form on the right.