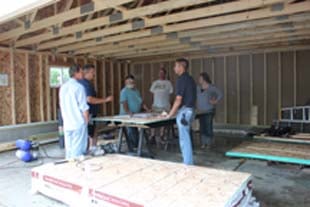 James Hardie Stucco Panel Siding Vertical & Horizontal Joint Treatments.

Western Construction, Inc. takes the proper installation of all home improvement siding products we use seriously.
Here you see Luke Albers from James Hardie Siding reviewing with the team from Western Garage Builders proper installation procedures for installing James Hardie Siding products.
One of the most often asked questions we get when installing James Hardie Stucco Panel Siding is (how do the stucco panels fit together and what do you do with the seams?).
There are four methods for the vertical joint treatment in James Hardie Stucco Panel Siding.
1. Install the panels in moderate contact. This is the option James Hardie recommends the most.
2. Leave an appropriate gap between the James Hardi Stucco panels (1/8" is the most common gap size) and caulk using a high-quality paint able caulk. The caulk joint method is not recommended for the ColorPlus products.
3. Vertical joints may be covered with wood or fiber-cement batten strips. Batten strips should span the vertical joint by at least 3/4" on each side.
4. Metal or PVC "H" moldings can be used to join two sections of James Hardie Stucco Panel Siding.

There are four methods for the horizontal joint treatment in James Hardie Stucco Panel Siding.
In some home improvement applications such as multi story structures or at the gable ends of a Garage, it is necessary to stack Hardie Panel Stucco Siding. The horizontal joints created between panels must be flashed properly to minimize water penetration. Treat horizontal stucco panel joints by using one of following methods.
1. After installing the lower course of James Hardie Stucco Panel siding, install vinyl or coated aluminum "Z" flashing at the top edge of the stucco panel. Make sure the flashing is sloped away from the wall. Install the second level or gable stucco panels leaving a 1/4" minimum gap between the bottom of the stucco panel and the "Z" flashing. This gap should never be caulked.
2. If a horizontal band board is used at the horizontal joint, flashing must extend over the stucco panel edge and trim attachment. Flashing for both treatments must slip behind the water-resistive barrier.