How Much Does A Two Car Garage Cost?
Back in March of this year I received a call from a friend of one of my previous garage customers. He wanted to know if I'd come over to give him a bid on building a Two Car Detached Garage and talk about different Garage Construction ideas. He explained that his back yard would be a real challenge. I told him it would be my pleasure, so we scheduled the appointment for the following afternoon.
I showed up the following afternoon on time (of course) and then proceeded to check out his garage situation. The alley was almost 4' lower than the yard so I explained the Garage Construction procedure and the cost for building his custom garage slab.
The total Two Car Garage Cost was almost $20,000
I was not surprised by my customers reaction because its one I hear all the time. $20,000 he exclaimed, you built my friends Minneapolis Garage for no more than $13,000.00. Why is my Minneapolis Garage so much more expensive? I said lets go back outside and I'll explain.
Standing in this typical Minneapolis Alley we looked at his lot. The alley was over 4' lower than the yard.
The other side of the alley the lots were flat. There was no more than 6" of height difference between the alley and the yard.
Garage Cost on his side of the alley $20,000

Garage Cost on the other side of the alley $13,000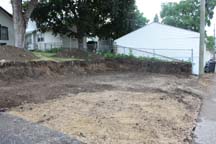 Both Minneapolis Garages were identical except for the amount
of ground preparation that was needed.
1. First we would need to get the South Minneapolis property surveyed.
2. Then the old garage would be torn down and the lot excavated.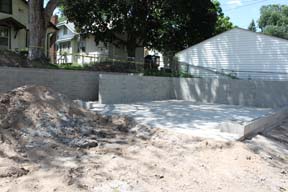 3. Next the cement crew would set up the garage slab for inspection by the Minneapolis Building Department.
4. The garage slab would then be poured. After it had a chance to cure we would lay the cement block and reinforce the block wall with core fills.
5. The driveway retaining wall and cement steps would then be installed.
6. Next the cement blocks will be professionally damp-proofed, drain tile installed and back filled.
7. After all the Garage Slab cement work had a chance to cure we would finally be ready to start building the Detached Garage frame.