James Hardie Siding | Laps And Seams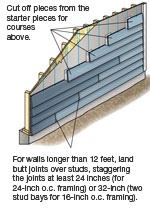 Most of the siding we install on Homes and Garages will have walls longer than 12'. James Hardie Lap Siding comes in 12' lengths therefore, there will be what we call butt joints in just about every row. Butt joints should be staggered to avoid any noticeable patterns.
Western Construction, Inc. will use both random placement of the planks and a progressive stagger pattern for a professional looking installation.
James Hardie Recommends The Progressive Stagger Pattern
With this installation method, the cut off piece for one course becomes the starter piece for a course above, making efficient use of materials and ensuring that all butt joints land on studs. The pattern can be modified for different stud placement.
James Hardie Siding | Joint Treatment
James Hardie Siding Recommends
As much as possible butt factory-finished ends together
Use moderate contact
Use joint flashing behind the butt joint
Installing a piece of flashing behind all butt joints provides a extra level of protection against water getting behind the siding at the joint.

Joint-flashing material must be durable, waterproof materials that do not react with cement products.
Examples of suitable material
Finished coil stock
Building code compliant water-resistive barriers
James Hardie Siding | What About Using Caulk?
If your using HardiePlank®Lap Siding Primed, James Hardie recommends the use of joint flashing, however the use of caulk will not void the warranty.