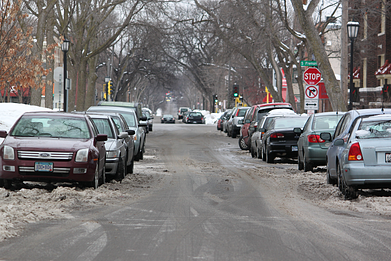 Western Garage Builders Since 1949
I was driving around the streets of Minneapolis and St Paul this morning and was once again reminded why Western Garage Builders has been in business for over 62 years.
This picture is of a typical Minneapolis street that could be found in any Minneapolis neighborhood. The more it snows the more narrow the streets become.
Usually you could get two cars driving in opposite directions down this Typical Minneapolis street. This winter it's hard to get even one car down the street without hitting any parked cars.
If you had a new Western Garage your vehicles would be safely off the narrow Minneapolis or St Paul streets and protected from the elements.
Is it time for your new Western Garage?
Click or call Western Garage Builders at Minneapolis 952-920-8888 or St Paul 651-644-6900 for more details.