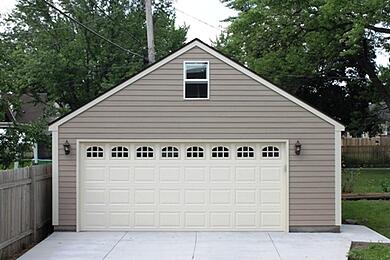 Two Car Garage
A Two Car Garage is the #1 requirement first-time home buyers want in their new home according to a survey done by Professional Builder Magazine. When it comes to home features, ample garage space, walk in closets and a family room ranked highest among respondents.
Mpls St Paul Garage Builders
A Two Car Garage was either extremely important or somewhat important according to 9 in 10 builders.
Two Car Garage 52.7 Extremely Important
Two Car Garage 34.9% Somewhat Important
Two Car Garage 5.5% Neither Important or Unimportant
Two Car Garage 2.7% Somewhat Important
Two car Garage 4.1% Important
Neighborhood schools, ample garage space and walking/biking paths are amoung the community and home features most desired by first-time buyers.
Not suprisingly, family friendly features like neighborhood schools, waling/biking paths and parks rankd highest among community features acording to a January 2011 survey of Professional Builder readers.
Garage space was the #1 ranked home feature followed by walk in closets and a family room.
Other desirable home features were an open floor plan, walk in shower, master bathroom with dual vanities, a separate tub and shower, high efficient heating and cooling systems and high performance windows.