MN Garages Need A Firewall In Most Cases
The 2009 International Residential Building Code started to require all buildings including Minnesota Garages, built within 5' of a property line, or within 10' of another garage or building on the same property to have a 1 hour fire resistance rating for fire exposure from outside the building.
According to the APA, Fire Rated Systems, "fire resistance is defined as protection against fire penetrating a wall, floor or roof, either directly or through a high rate of heat transfer that might cause combustible materials to be ignited on the side of the wall or floor away from the actual fire. Thus, it is a property of an assembly of several materials, including fastenings, and of the workmanship". (3) Let's see what a 1-Hr fire resistance rated garage wall assembly looks like from a leading fiber cement company. Be sure to notice that 2 layers of 5/8 type X sheetrock are required, 1 inside and 1 outside.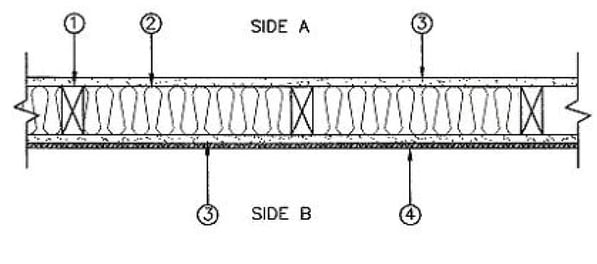 1. Wood Studs: Nominal 2" by 4" solid sawn wood studs located 24" oc, with two top plates and a single bottom plate.
2. Insulation (Required): Glass fiber batt insulation, conforming to CSA-A101 Glass Fiber Insulation minimum 0.6kg/m².
3. Gypsum Wallboard, Side A: 5/8" Type X gypsum wallboard, oriented vertically,and fastened with 1-3/4" cup-head gypsum nails, spaced 7" oc at board edges and in field areas, or 1-1/2" Type S drywall screws, spaced 8" oc at board edges and in field areas of boards. Gypsum Sheathing, Side B: 5/8" Type X gypsum sheathing fastened with 1-3/4" long roofing nails spaced 7" oc. Sheathing edge joints shall be staggered from those on opposite sides of the wall.
4. Fibre-cement Exterior Siding: 5/16" thick Hardipanel vertical siding applied as per manufacturer's installation instructions. (4)
It really dosen't matter what type of siding is used over a garage firewall because the two layers of gypsum sheetrock provide the key to the firewall assembly, not the siding.