Delivering materials for a Detached Garage can be tricky business.
Most of the detached garages Western Construction builds are located on the rear of your lot or alley where all the power-lines are located. Power-lines can and often are a dangerous problem we deal with every day. The Garage roof trusses that are being delivered to this South St Paul job site are 7/12 spread w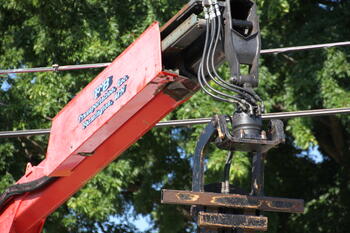 eb storage trusses. Their taller than the standard 4/12 garage roof by almost 3' so extra precautions need to be taken to insure a safe delivery.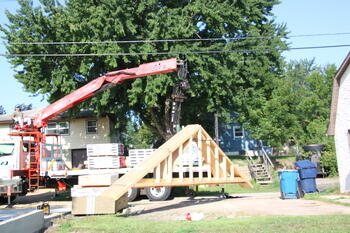 Western Garage Builders prides its self on not only providing the best built garage in the Twin Cities but also the safest.
Garage Construction
A couple years ago there was a garage builder (who will remain nameless) who bought from one of those cut rate truss manufacturing plants that didn't care much about safety. On one delivery the boom truck hit the power-lines and knocked out power to several blocks of very unhappy homeowners.
The only good thing that came about from that accident is Western Construction received a lot of business from that neighborhood.