Minneapolis 2 Car Garage Gable Roof Style vs Reverse Gable Roof Style

As president of Western Garage Builders I'm often asked whats the difference between a gable roof garage and a reverse gable roof garage?
A reverse gable roof garage you drive in under the eave side of the roof like the picture on the top right.
Minneapolis Garage
A gable garage you'll drive in under the gable end side of the garage like the lower picture.
Reverse gable roofs styles used to be popular back in the 50' and 60's when Minneapolis and St Paul were building their first tier suburbs.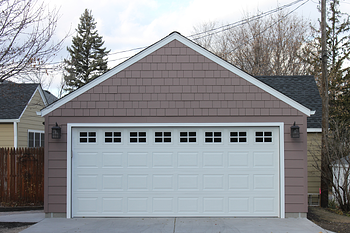 In the 70's, 80's and 90's you were more likely to match you home roof than not.
Minneapolis Roof Styles
Today almost all of the garages in Minneapolis and St Paul being built are being built with gable roofs.
Some of the reasons are;
Gable roof garages, the water drains to the side walls instead of the driveway. This eliminates ice buildup on the driveway.
Gable roof garages are less expensive because there's no need for gutters.
Gable roof garages are less expensive because of the header system being used.