Garage Construction Plans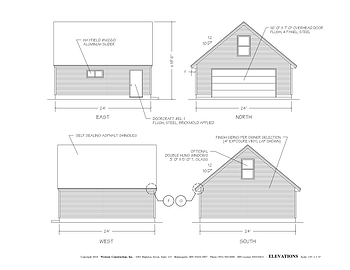 Western Garage Builders is giving away several different styles of garage construction plans as a way of saying thank you Minneapolis and St Paul homeowners for making us the Top Detached Garage Builder for 67 years.
The first step in building your new garage is to decide which style garage is best for you and your home.
Western Construction has a website full of garage plans, styles and cost to suit every taste.
Free Garage Plans
It doesn't really matter if you plan on building a garage yourself or hiring a licensed, insured and bonded contractor like Western Garage Builders. The first step is always the same. Applying for a building permit with a great set of garage plans. Western Garage Builders has chosen the most popular style garages and made garage plans available for immediate download.
Garage plans for a two car garage with a standard gable roof truss are available for download.
Garage plans for a two car garage with a storage truss roof truss are also available.
Garage plans for a 24x24 garage with attic trusses are available for down load.
Since 1949 Western Garage Builders has been serving the Minneapolis St Paul metro area with free garage plans and estimates. After 64 years we have the best FREE garage plans on the Internet.