Affordable Detached Garage Builder
Western Garage Builders has been building affordable detached garages in Minneapolis and St Paul since 1949.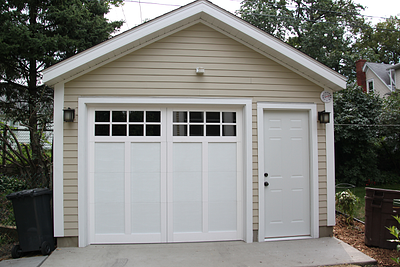 This garage is situated on a very small lot in South Minneapolis near lake Calhoun. The Lake Calhoun area is home to many newly remodeled McMansion type homes so the owners wanted their new garage to fit in.
A standard two car garage wouldn't fit in this very small back yard so the owner opted for the more affordable 16x22 single car detached garage. This is a one car family so the more affordable 16x22 works out perfect.
Affordable Single Car Garages
This garage was also made affordable by using James Hardie smooth lap siding instead of redwood. Once this garage was painted its almost impossible to tell the difference between real wood and fiber cement siding.
The overhangs or what we call the soffit and fascia were covered in Aluminum. This also keeps the garage affordable and eliminates the need for painting.
The overhead garage doors believe it or not are steel. Real redwood or cedar garage doors are not affordable and hard to come by so steel is a great option.
We ran an underground electric line from the home to the garage providing a 20 amp service. Inside the garage were one overhead light, one overhead receptacle for the garage door opener, one wall receptacle and a lantern style light by the service door.
There is also a very affordable LiftMaster electric overhead door opener with two remotes and a key-less entry on the outside.
If your looking for an affordable garage then Western Garage Builders is the garage builder for you. Please give a call for a free affordable garage quote.
Minneapolis 952-920-8888 or st Paul 651-644-6900