Garage Electrical Service Issues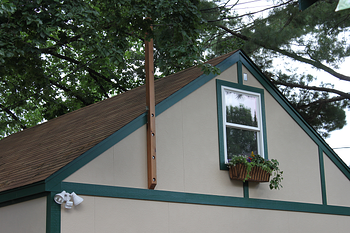 When Western Garage Builders comes to your home to make a site inspection there are several items we need to look at. One of the items is how your main electrical service is brought into your home.
Garage
Most of the time the main electrical service is brought from the power line in the rear yard and connected to a mast on the back of your home. Normally this doesn't create a problem but from time to time it does. Especially when were building a storage truss or attic truss garage.
State code requires the power line to be three feet above the garage roof deck. Most of the time this isn't a problem but when it is there are several ways we can handle the issue.
Have Xcel move the line
Have Xcel tighten the line
Have Xcel bury the line
Put a post on the garage to raise the line
Raise the mast on the home
The first thing we want to do is to have Xcel out to look at the problem and see if they can do anything that wont cost my homeowner anything. Trying to get Excel to do anything is often slow and costly but we need to contact them first.
Electrical Service
Putting a post on the garage is usually the best and most efficient way to go. Its fast looks good and is inexpensive.
The next most popular way to resolve the electrical service issue is to raise the mast on the home.
If you have any questions about how to handle a garage electrical service please give Western Garage Builders a call at Minneapolis 952-920-8888 St Paul 651-644-6900.