Minneapolis Garage Moving Requirements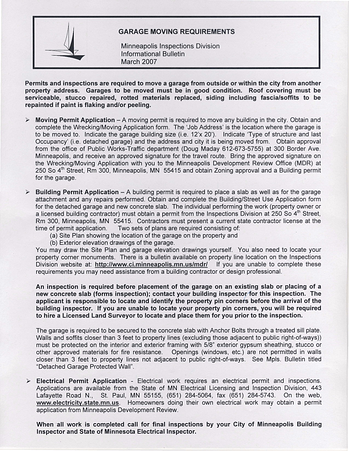 The City of Minneapolis requires building permits and inspections in order to move a garage from outside or within the City of Minneapolis to and from another address.
It probably should go without saying but the garage to be moved must me in good condition. Check the roofing, siding, soffit /fascia, framing and bottom plates for signs of rotting. If the garage has wood siding make sure the paint isn't flaking and or peeling prior to moving.
Garages Mpls
If your moving a garage to a new address in the City of Minneapolis you'll most likely be putting the garage on a new garage slab. Make sure you obtain a building permit prior to pouring the new slab and for the placement of the garage. If you're hiring a contractor make sure they pull all aplicaple building permits before any work starts or money changes hands.
Minneapolis Garage Requirements
City of Minneapolis Garage Moving Permit
City of Minneapolis Garage BUilding Permit
City of Minneapolis Garage Electrical Permit
Don't forget to call for all inspections including the final inspection.
Or you could contact Western Garage Builders at Minneapolis 952-920-8888 St Paul 651-644-6900 for a free quote on a new garage. Call today!!