At Western Garage Builders we always recommend keeping de-icing chemicals off new Minnesota garage slabs and concrete driveways for at least 12 months. This year (2014) with the below normal November temperatures its more important than ever. Truth be told, you should never use de-icing chemicals on concrete.
Garage Builders MN Warning about De-icing chemicals on garage slabs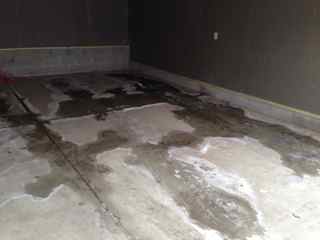 One major problem we can't control is what MNDOT applies to our roadways and alleys. To protect life and property the Minnesota Department of Transportation will use de-icing chemicals all winter long and we have no idea or control on what products they use.
Your vehicles under carriage and wheel wells are full of the stuff, and then it melts leaving a dangerous mix of harmful chemicals all over your garage slab.
This harmful and toxic mess needs to be shoveled out of your garage and not tossed on your driveway but put back where it came from, the roadway or alley.
There are several chemicals used in ice-melt products
Calcium Magnesium Acetate and Sodium Chloride/Rock Salt. These probably do the most damage to concrete and should never be used.
Calcium Chloride, Magnesium Chloride and Potassium Chloride are less harmful but can damage grass, plants and can be lethal to pets. Again, less harmful than Calcium Magnesium Acetate and Sodium Chloride/Rock Salt but I'd still wouldn't recommend using any of these products on concrete. Especially concrete placed in the last 12 months.
A healthy alternative to chemicals
If you really need to increase traction to your garage slab, driveway and sidewalks consider sawdust, kitty litter and what I use, sand. You can purchase sand in any big box store buy the tube or bag. It's even great to keep in the trunk of your car for better traction and in a jam you can use it to get unstuck!