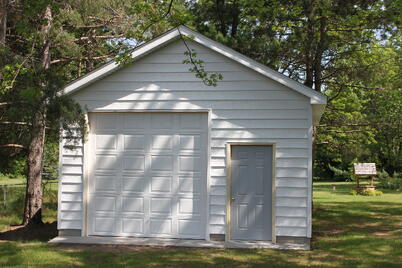 Do you need extra space for that new boat or RV or just brought home. Maybe you work on cars and would love a lift? If so this style of Custom Detached Garage would be perfect.

The owner of this Brooklyn Park, Minnesota Garage needed a place for his new Boat and all the fishing gear he's accumulated over the last 50 years. "My requirements are very simple" he exclaimed. I need a Garage that is at least 16' wide and 30' deep with a 10x9' tall Garage door and my wife wants a Garage that matches our home.

Since Western has been Building Garages since 1949 thats over 60 years, I told him their requirements would be no problem and we'd be able to please both he and his wife.

We used EDCO steel siding for this Brooklyn Park Garage because its a practical, cost-effective choice. EDCO steel siding withstands severe weather changes. EDCO steel siding is stronger and has more rigid panels than other similar products, ensuring tight seams and a straight, clean appearance.

Lifetime Warranty
EDCO steel products carry a lifetime, non-prorated limited warranty with hail and fade protection. The warranty is also transferable should the original owner ever decide to sell.