Every step of the way Western Garage Builders was great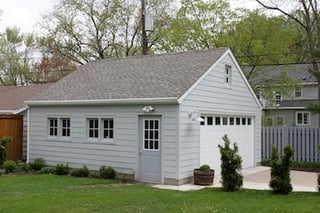 Every step of the way Western Garage Builders was great.The owner Brad Chazin came out and gave me a fair bid and explained every step of the process to me.
My home is located in Minneapolis, MN so the codes are different then other cities. The garage I wanted wasn't allowed according to the Minneapolis Zoning department but Brad came up with a plan that got me the garage I wanted and the size, shape and height the Minneapolis demanded.
The demolition of the old garage was quick and clean. Actually I left for work and came home and it was gone.

The next phase of the garage construction started just a few days after the old garage was removed. The excavating and pouring the the garage slab and block work was perfect, the garage was right where I wanted it and so are the door openings.
Gary Doyle the excavator told me both his father John and grandfather Chancy worked for Brad and Brad's father Milt before him. That was pretty impressive.

Next came the garage building phase, the crew that came out was a father and son team. Tony (father) let me know exactly what to expect and how quickly things would be done. He then asked if I had any concerns. I told them I had an older dog who might try and escape. So he built a special fence to keep the dog from getting out as he built the garage.

Then came the electrician John, he met with me and went over the placement of all lights and switches.

Then the final garage construction phase was the installation of the overhead door, overhead door opener and then the final clean up.
Overall I was very impressed with the professionalism and the fact that they cleaned up every day was important to me as I have a toddler and a five-year-old that love to get into things.
If your looking for Minneapolis Garage Builders I'd recommend Western Construction!
Looking for garage contractors? Give Western Construction a call today! Minneapolis St Paul 952-920-8888