The Diana Chazin Levitt Memorial Fund Needs Your Help
Its been over 20 years since my baby sister Diana Chazin Passed away from Leukemia at the age of 30. Since her passing we've been holding yearly fundraisers in Diana's honor. This year, the 20th year will be our last.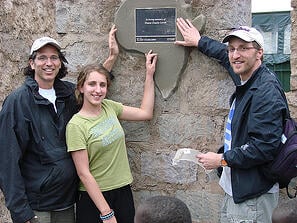 To date we've raised over $315,000.00 and donated 100% of the proceeds to various charities including a school house in Kenya.
Pictured is Margo Levitt, Diana's daughter with her Uncle Stuart Chazin and father Alan Levitt. They helped the locals build the school house out of mud and straw which are the only building materials available in this remote part of Kenya.
On behalf of the Diana Chazin Levitt Memorial Fund we would like you to become one of our proud sponsors for the 20th & Final Diana Chazin Levitt memorial Fund Benefit Party to be held Saturday August 16th, 2014 at Bar Fly (formally Skyway theater) in Downtown Minneapolis, MN.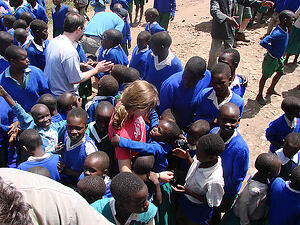 To date the Diana Chazin Levitt Memorial Fund has donated over $315,000.00 to charities including:
Diana Chazin Levitt Endowment Fund, The Leukemia & Lymphoma Society, Alzheimer Association, Diana Chazin Levitt Memorial Playground, Yeshiva of Minneapolis, United Way September 11th Fund, Breast Cancer 3-Day Walk, Sabes Jewish Community Center, Michael LaBelle Alternative Medicine Fund, Aids Service Center of Pasadena, Minneapolis Heart Foundation, Diana Chazin Levitt School located at the Howie Stillman Campus in Kenya.
Our goal is to reach $350,000.00 in total donations and we cannot do it without your help!
Platinum: $1250+ / Gold: $750+ / Silver: $500+ / Bronze: 250+
By donating, your name/corporate name will reach thousand's of people
thru facebook, tweeter, emails, etc.
Please make check payable to:
DIANA CHAZIN LEVITT MEMORIAL FUND
C/O Jewish Community Foundation of the MJF
13100 Wayzata Boulevard, Suite 200
Minnetonka, Minnesota 55305
The Minneapolis Jewish Federation is a Section 501 c3 public charity
Federal Identification Number: 41-0693866
Your donation should be mailed by March 1, 2014
Bradley Chazin
President
Western Construction, Inc. Inc.4301 Highway 7 Suite #115Minneapolis, MN 55416