Garage Door Threshold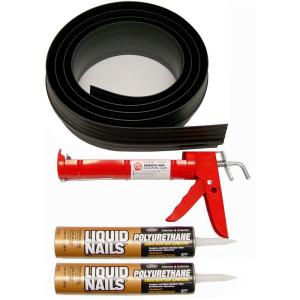 The other day I was flying home from Boston to Minneapolis and I happened to see a add in the Delta Sky Mall magazine for garage door thresholds.
All though this type of product isn't new I think its overlooked as a simple solution for wind blown water, snow and debris.
You could spend thousands of dollars replacing your garage floor, hundreds of dollars on epoxy products that will only last a few years or you could spend less than a $100 on a garage door threshold.
There are several manufactures that make similar garage door threshold products. I goggled garage door thresholds and Tsunami Seal Garage Door Threshold showed up first on Amazon so I've taken that information and listed it below. Western Garage Builders dosen't endorse any product, this is for information purposes only.
From the Manufacturer
The Tsunami Seal Garage Threshold Door Seal mounts to your garage floor creating the perfect seal between your door and your garage floor. The Garage Door Threshold Seal creates a tight seal for your garage door which will keep leaves, dirt, water and snow from being blown under the garage door by the wind. Also, if you have a sloped driveway or an uneven garage floor and water is seeping under your garage door, the Door Seal adds a 1/2-Inch tall barrier to the garage floor. The Door Seal will also help keep out unwanted insects and snakes. By creating a better seal, your garage will stay warmer during the winter and cooler during the summer, helping to keep your energy cost down.
Product Description
Tsunami Seal Garage Door Threshold Seal. The Tsunami Seal Garage Threshold Door Seal mounts to your garage floor, creating the perfect seal between your door and your garage floor. The Garage Door Seal creates a tight seal for your garage door which will keep leaves, dirt, water and snow from being blown under the garage door by the wind. Also, if you have a sloped driveway or an uneven garage floor and water is seeping under your garage door, the Door Seal adds a 1/2" tall barrier to the garage floor. The Door Seal will also help keep out unwanted insects and snakes. By creating a better seal, your garage will stay warmer during the winter and cooler during the summer, helping to keep your energy cost down. The Door Seal works great with all types of garage doors including roll-up doors, hinged wood doors and walk-through doors. The one-piece strip is permanently secured to the garage floor with the included Liquid Nails Polyurethane Adhesive. Kit includes the one-piece Door Seal, Liquid Nails Ultra Duty Poly Adhesive, and a metal caulking gun. The unique vinyl polymers used to produce the Tsunami Seal Garage Threshold Door Seal, in conjunction with the outstanding properties of Liquid Nails Ultra Duty Poly Adhesive, allow Auto Care Products, Inc. to create a product that is so durable that we can offer a lifetime warranty. Dimensions: 10' Kit - 120.00" L x 3.50" W x 0.50" H; Weight - 5.00 lbs. 16' Kit - 192.00" L x 3.50" W x 0.50" H; Weight - 8.00 lbs. 18' Kit - 216.00" L x 3.50" W x 0.50" H; Weight - 9.00 lbs. 20' Kit - 240.00" L x 3.50" W x 0.50" H; Weight - 10.00 lbs. 50' Kit - 600.00" L x 3.50" W x 0.50" H; Weight - 25.00 lbs. 100' Kit - 1200.00" L x 3.50" W x 0.50" H; Weight - 50.00 lbs